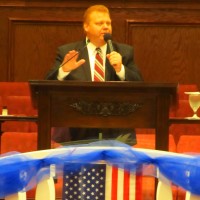 The Birth Place
by Pastor Jacobs | January 20, 2012
Every dream that God places inside of you has a birth place.
When God has placed a dream inside of you, that only he can make possible, you need to pray, give and fast.
Jesus himself out lined a sermon on this in Matthew 6: 1-18, speaking of these three things. At the end of each one he said "and thy Father, which sees in secret, shall reward thee openly."
God's word reveals the power of a threefold cord in Ecclesiastes 4:12, and if one prevail against him, two shall withstand him; and a threefold cord is not quickly broken.
Jesus also spoke in Mark 4:8, and told how some brought forth, "thirty, and some sixty, and some an hundred fold."
Could we be missing our greatest breakthrough because we fail to do all three? That if we give, if we pray, and if we fast it very well could unlock the hundred fold. Again I remind you that Jesus himself said when you do these three things the father which sees it in secret will reward you openly.
We are a little over the half-way point of the fast, so, allow God to strengthen you and speak to you during this time.
Pastor J