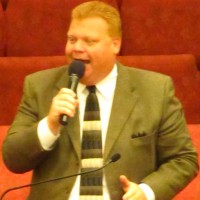 Ten Times Better
by Pastor Jacobs | January 12, 2012
It was Great services Last night in all the departments.
I am so excited to see an overwhelming amount of involvement with our Daniel fast. From our children's department, youth department, and Sanctuary, many have set themselves to seek God.
We often view Daniel as an older man sitting in a den of lions but in Daniel chapter one he is 15 years old, he is in captivity, everyone and everything is stripped away, but they knew the answer and that was to seek God and even in that place God had a way of promoting them when they fasted. Where ever you are right now remembering even in that place God can use you.
As for Daniel, Hananiah, Mishael, and Azariah in Dan 1:20 And in all matters of wisdom and understanding, that the king enquired of them, he found them ten times better than all the magicians and astrologers that were in all his realm.
Remember to read in the daily journal and pray…..take this time at the start of the year and set it aside to seek God.