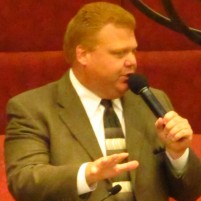 Don't Panic
by Pastor Jacobs | January 17, 2012
Don't Panic
When you read Daniel chapter three you often see and speak of the things that you read in the scripture, but it's what is not there that stands out to me. When you read this passage of scripture you don't find panic anywhere.
We get excited about the fact that God has a plan for our life…….. But then it dawns on us that we are surrounded by trouble, so we begin to panic.
We often become like disciples on the ship in the storm: They wake Jesus up as if to say, "come and worry with us!" Mark 4:38 says: carest thou not that we perish?
When we panic:
<![if !supportLists]>· <![endif]>The initial becomes the official
<![if !supportLists]>· <![endif]>The worst becomes the first
<![if !supportLists]>· <![endif]>The extreme becomes the supreme
Have you ever been in a place where you were just totally overwhelmed? It's like somebody needs to do something even if it's wrong. The three Hebrew boys didn't panic!
We often say: "God help us"…and reality is, he helps us every day!!! We should request that he be glorified in all we do. The enemy wants us to constantly beg for something God has already finished. God was actually setting this up so he would be exalted and glorified!!!
Notice a couple of things that occur in this process
<![if !supportLists]>1. <![endif]>They were convinced and would not compromise:
Daniel 3, "...O Nebuchadnezzar, we are not careful to answer thee in this matter."
<![if !supportLists]>2. <![endif]>They knew what the outcome would be.
Daniel 3:17, "If it be so, our God whom we serve is able to deliver us from the burning fiery furnace, and he will deliver us out of thine hand, O king."
It's as if they were saying at the end of the day: "king we know we are in the hands of God."
That's why they didn't panic. Remember you are in God's hands.
Pastor J